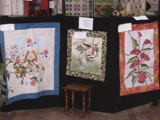 The Woodpatch Quilters held their 12th bi-annual Quilt Exhibition at the Lobethal Centennial Hall on Saturday, August 1st and Sunday, August 2nd.
Between 10 and 4 on both days, a steady stream of people came to admire the wide variety of beautiful quilts on display.
There were large quilts exquisitely hand-quilted and smaller quilts with appliqué, stitchery or whimsical patterns, which drew exclamations of delight.
A pin cushion display showed the variety of items these ladies can make.
There were trading tables and Sue from Bridge Agencies sold fabrics and patchwork supplies from an on-site shop. Continue reading Woodpatch Quilters' Exhibition →